Want to Get Yeast-Free With Me?
By: Physicians Preference RX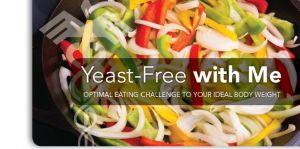 At the beginning of the year, I often times find myself feeling a little bloated, tired and my pants fitting a little tighter. All of the holiday treats I took part in over the past two months have filled my system with yeast!
The overgrowth of yeast in our colons, which is part of our large intestines, leaves us feeling bloated, gassy, fatigued and uncomfortable. Lucky for me the staff here at Physicians Preference Pharmacy has started the yeast-free eating program! The yeast free eating program eliminates yeast from your system by eliminating sugars and simple carbohydrates, killing the yeast by taking Nystatin and Fluconazole, and replenishing the good bacteria in your system, Lactobacillus Acidophilus with Hotze Pharmacy's Probiotic Blend! The yeast-free eating program is a wonderful way to get back to feeling on top of the world and shed a few of those pesky holiday pounds!
So I pose to all of you who read our Physicians Preference Pharmacy Blog a challenge: Would you all like to get yeast-free with me? Consider starting a yeast-free eating program to improve your health today!
Click here to find out if you can benefit from a yeast-free eating program.