Yeast Free With Me!
By: Physicians Preference RX
It's the New Year and our annual Yeast-Free with Me is right around the corner! This is where we invite all of you to join us for a month of delicious, healthy yeast-free eating! It officially starts January 14 and will last until February 14. To sign up and get e-mails full of recipes and tips just follow the instructions here.
Hotze Pharmacy will be offering $15 off of Nystatin during Yeast-Free with Me, simply mention the coupon code "YF" in the comments field when placing an online order, or to the technician over the phone when placing a phone order.
I thought I would share one of my favorite and easy yeast-free recipes with you all!
Yeast-Free Turkey Taco Wraps:
Ingredients:
1 package of ground turkey
1 package of taco seasoning (Make sure it does not contain sugar, I like Penzey's Bold Taco Seasoning)
1 onion, diced (reserve ¼ of onion)
1 red bell pepper diced
1 pablano or jalapeno pepper, dependent on your heat preference, diced
1 can of diced tomatoes
½ cup of chicken stock
1 small fresh tomato
Large leaf lettuce, like iceberg or romaine
Guacamole, either store-bought (but check the ingredient list) or homemade
Directions:
Brown your ground turkey in a pan until browned. Turn your Crockpot on low and place onions, peppers, tomatoes, chicken stock, browned ground turkey and taco seasoning into the Crockpot. Stir, and allow to cook on low for 6 hours. When the taco meat mixture is finished cooking place two large leafs of lettuce on your plate. Use a slotted spoon to scoop out a mixture of taco filling, draining the excess liquid, and place a scoop in each taco. Top with fresh onions, diced tomato and guacamole!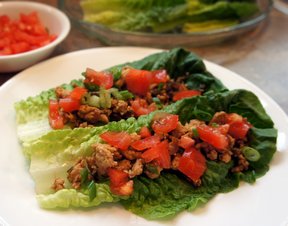 I hope you enjoy this delicious recipe! I look forward to doing the Yeast-Free eating plan with all of you this month!