Yeast-Free Fried Rice Recipe
By: Physicians Preference RX
If you are doing the yeast -free eating program, I thought this would be a great time to share a recipe! If you've found yourself missing Chinese take-out, this yeast- free version of fried rice is sure to please. Even my finicky fiancé enjoyed it!
Ingredients:
– 1 head of cauliflower florets
– 1 small onion, minced
– 2 eggs
– 1 large carrot, diced
– 1 tablespoon of grated ginger
– 2 tablespoons of chopped cilantro
– 1 tablespoon of dried basil (Or 2 tablespoons of fresh)
– 1 tablespoon of chopped mint
– 2 tablespoons of coconut oil
– 1 cup of broccoli, chopped
– Salt
– Black pepper
– Paprika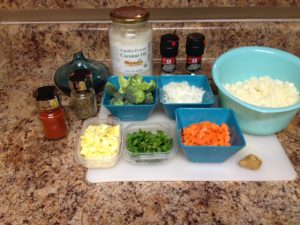 Directions:
Pulse the cauliflower in the food processor until the pieces are small and resemble rice. Chop the remaining ingredients and set aside.
Heat a large skillet (I used a cast iron), over medium heat. While your skillet is heating whisk the eggs together with salt and pepper and make a thin flat omelet. Remove the omelet from the pan, let cool, and set aside.
Then in the same pan bring to heat the coconut oil. I turned my temperature up to about medium-high. Add the onion and carrot.
Once the carrots soften a bit add the broccoli, salt, pepper, and a little paprika.
Cook until the broccoli is fork tender, and then add the cauliflower.
Season the dish with more salt, pepper and a bit more paprika if you'd like, then cover and cook for 5 minutes until the cauliflower is soft. Beware of over cooking because the cauliflower can turn mushy.
The last step is adding the dried basil and the fresh chopped herbs, stirring everything together and serving as either a side dish or as its own meal! This dish would be delicious with shrimp, chicken, pork or beef stirred in also!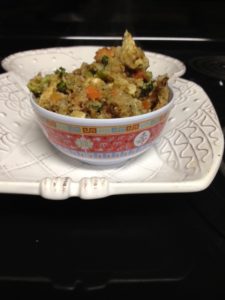 Hope you all enjoyed my version of yeast-free fried rice!