How to Refill Your Prescription
By: Physicians Preference RX
1. Refill
This page displays a list of active scripts, excluding inactive or expired, and the number of eligible refills. The most recent fill and current status are shown. Prescriptions that were put on hold will not be available for refill through the website the first time. Please contact Hotze Pharmacy for assistance at 281-828-9088 or by e-mail Pharmacy@HotzePharmacy.com
To refill a prescription:
1. Select the Refill button for each script to add to the order.
2.Once all scripts have been selected, select Continue. Please note: you will only be able to refill the quantity you refilled the previous time. For any changes to quantity or any changes to your prescriptions, please contact the pharmacy at 281-828-9088 or by email at pharmacy@hotzepharmacy.com for assistance. We are currently working on having the software developer implement a "Comments Field" for your convenience. Also, it is always a good idea to have your prescription number to validate which prescription you need to refill.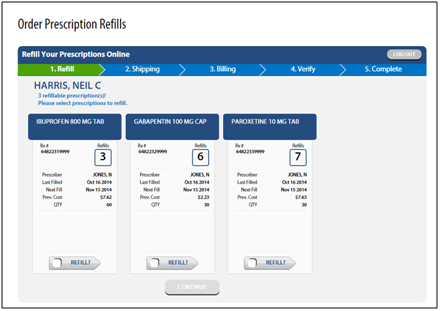 2. Shipping
Please select how to receive the prescriptions. Options include: Mail, or Pickup. For Mail, there is a Rush Shipping (Overnight) option for a fee ($30).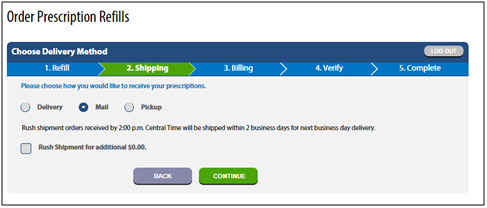 For Mail, the address from your Patient Profile, as well as an option to add a new address, are displayed. New addresses are inserted in your Patient Profile as a Delivery address upon selecting Continue.
NOTE:New addresses are added to Patient Profiles even if you log out prior to submitting the order.



3. Billing
All stored cards from the Patient Profile are available options. You have the ability to select a stored card, add a new credit card, or pay at pickup.



If you select New Credit Card, the following page appears to enter new credit card information. If a card is expired, you can update the expiration date by selecting the expired card and selecting Continue.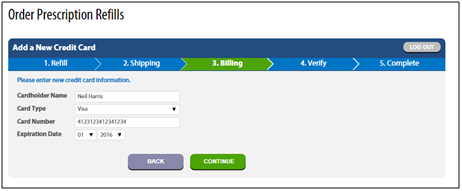 4. Verify
You can verify the order before submitting for processing.
•The Ship To field displays the address from step 2 (Shipping)
•The Pay With fields displays payment option selected during step 3 (Billing). For credit cards, the type of card, the last four digits of the card number and expiration date display.
•All prescriptions in the order appear, including information about required Refill Authorizations, and the fill date of the previous fill displays for all selected scripts.
•Once information has been confirmed, the patient selects Submit Order. A confirmation number appears. Currently, this is the patient's date of birth, plus the current date/time stamp. (DOBMMDDYYYYHHM