5 Tips to Go Back to School Yeast-Free
By: Physicians Preference RX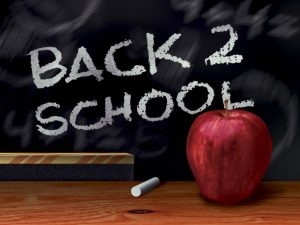 It seems like summer just started yesterday and it is already time for back to school! While back to school is a very busy time for the students in our lives, it can also be a very hectic time for parents trying to get their kiddos back in the rhythm of things.
In the midst of making peanut butter sandwiches and preparing bags of chips to send your loved ones off to school with, it can be hard to stay healthy and on track. Here are a few tips to keep both yourselves, and maybe even the students in your life, on the yeast-free eating program.
On Sundays, pre-pack fresh cut vegetables and sort fruit. I like to cut up all the celery, bell pepper and cucumber I will need for a few days and sort it in zip top bags and Tupperware containers in my fridge for easy grab and go access. A tip to keep celery crispy for weeks is to wrap it in aluminum foil!
Pre-cook large batches of things such as yeast-free chili to eat throughout the week. This can be brought in a thermos or even put on top of lettuce to make a delicious taco salad! These items also freeze well.
Use your crock-pot! Tons of recipes that are yeast-free can be made in the crock-pot, one of my favorites being Mexican Crock-Pot Chicken! You can basically set and forget these dinners and come home to a warm cooked meal.
Motivate yourself and your kids to want to bring their lunch by using really cool, eco-friendly lunch boxes such as this Planet Box. You can even customize the design of the box and it has compartments to neatly organize food. Not to mention this will cut the cost on things like reusable containers and plastic bags.
Learn to love the unwich! A big part of my weekly lunch menu is to keep a variety of meats and vegetables at work, along with a jar of vegenaise and a bag of washed romaine lettuce. I have the supplies I need just steps away from my desk to make a delicious yeast-free lettuce wrap, or unwich!
I hope these tips help you stay on track during the beginning of the hectic school year!